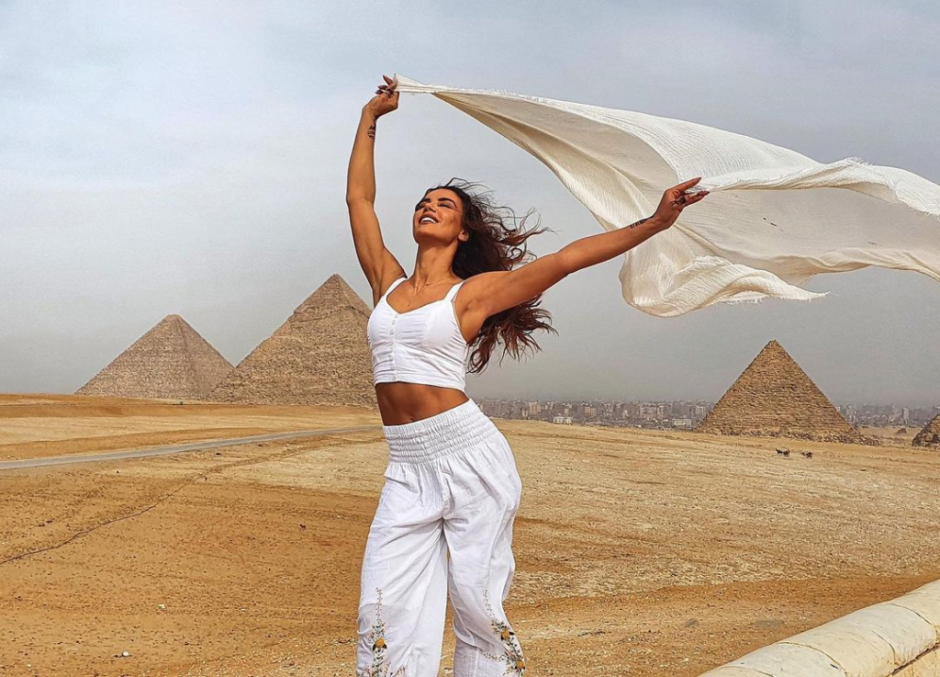 Experience the best of Egypt's vibrant history and stunning landscapes with our 4 Days Cairo & Alexandria Tour Package. From the iconic pyramids of Giza to the ancient wonders of Alexandria, this carefully curated itinerary offers a comprehensive exploration of Egypt's cultural treasures. Immerse yourself in the world of pharaohs, discover architectural marvels, and soak in the enchanting beauty of the Nile River. Book now and secure your spot for an unforgettable journey through time!
Overview:
Embark on a remarkable adventure through Cairo and Alexandria, two of Egypt's most iconic cities. Unveil the secrets of ancient civilizations, witness breathtaking monuments, and immerse yourself in the captivating history and culture that Egypt has to offer. Led by expert guides, this 4-day tour package provides an in-depth exploration of the renowned pyramids, temples, museums, and vibrant markets, ensuring an enriching and unforgettable experience.
Highlights :
Marvel at the Great Pyramids of Giza: Behold the awe-inspiring sight of the pyramids, including the Great Pyramid of Khufu, the Sphinx, and the Pyramid of Menkaure.
Discover the Egyptian Museum: Delve into the fascinating artifacts and treasures of ancient Egypt, including the iconic Tutankhamun's golden mask.
Explore the Citadel of Saladin: Visit this medieval Islamic fortification and admire the stunning views of Cairo from its elevated location.
Wander through Khan El Khalili Bazaar: Immerse yourself in the bustling atmosphere of Cairo's oldest and most vibrant market, known for its traditional crafts, spices, and souvenirs.
Visit the Library of Alexandria: Step into the modern city of Alexandria and explore its ancient wonders, including the famous library that once held the world's knowledge.
Unwind on Alexandria's Mediterranean coastline: Enjoy a leisurely stroll along the beautiful Corniche and soak in the tranquil ambiance of the Mediterranean Sea.
Advantages:
Expert Guides: Our knowledgeable guides will provide fascinating insights into Egypt's history, culture, and architecture, ensuring an enriching experience.
Hassle-Free Travel: Sit back, relax, and let us take care of all the logistics, including transportation, accommodation, and sightseeing arrangements.
Comprehensive Itinerary: This tour covers the must-see attractions of Cairo and Alexandria, offering a well-rounded experience of Egypt's ancient wonders.
Flexibility: Customize your tour by adjusting the pickup time or adding optional activities to suit your preferences and schedule.
Instant Confirmation: Book now and receive instant confirmation, guaranteeing your spot on this incredible journey.
Itinerary:
Day 1: Arrival in Cairo
Upon your arrival at Cairo airport, They will assist you with the airport procedures and transfer you to your hotel in an air-conditioned car. You will spend the night in Cairo.
Day 2: Visit the Great Pyramids and Egyptian Museum
After breakfast, your day will begin with a visit to the Egyptian Museum of Antiquities. Here, you will have the opportunity to see a rare collection of art spanning 5,000 years. The museum houses over 250,000 genuine artifacts, including a dedicated exhibit showcasing the treasures, gold, and jewelry of Tutankhamen, which remained enclosed in his tomb for over 3,500 years until its discovery in the 1920s.
Next, you will visit the Great Pyramids of Giza, including the pyramids of Cheops, Chephren, and Mykerinos. The Great Pyramid of Cheops is particularly awe-inspiring. You will also get a close-up view of the Sphinx, a monumental funeral complex guarded by the legendary lion body with the face of King Chephren. At the end of the day, you will be transferred back to your hotel.
(Optional) In the evening, you can enjoy a dinner cruise on the Nile for two hours, which includes traditional Egyptian folk shows.
Overnight in Cairo.
Day 3: Alexandria Tour
After breakfast, your tour guide will pick you up from your hotel for a trip to Alexandria. The first stop is the Library of Alexandria, the largest library in the world, housing an impressive collection of 8 million books. You will have the opportunity to explore its open court and free museums. Please note that the Alexandria Library is closed on Fridays and public holidays, and there may be an additional ticket required to enter the reading area.
Next, you will visit the site of the Lighthouse of Alexandria, one of the Seven Wonders of the Ancient World. Today, the castle of Qaitbey stands in its place. You will also visit the royal gardens of King Farouk, the historic palaces of Haramlek and Salamlek, and the royal beaches. The tour continues with a visit to the beautiful Abbo Elabbas Mosque, the memorial of the Unknown Soldier of Alexandria, and the statue of Alexander the Great.
You can choose to have lunch (optional) before visiting the Church of St. Mark, the oldest church in Africa. Following that, you will drive along the Corniche, a scenic waterfront road, to enjoy panoramic views of Alexandria from the seaside. The Corniche also includes the old harbor of Alexandria, where numerous underwater monuments have been discovered.
Before returning to your hotel in Cairo, you will stop at the famous Stanley Bridge, a modern landmark of Alexandria. You will also have the opportunity to explore the old downtown area, known as the city-center of Alexandria, which was originally built by Alexander the Great. If you have any specific interests or additional requests, we can customize your itinerary at cost price.
Overnight in Cairo.
Day 4: A Trip to Remember
After breakfast at the hotel, our representative will transfer you to the airport and assist you with the final departure formalities.
We hope you have enjoyed your time in Cairo and Alexandria, and we look forward to welcoming you back in the future.
Inclusions:
Airport transfers (arrival and departure).
Accommodation in a 4-star hotel with daily breakfast.
Professional English-speaking guide.
Transportation in a comfortable, air-conditioned vehicle.
Entrance fees to all included attractions.
Lunch at local restaurants (excluding beverages).
All taxes and service charges.
Exclusions:
International airfare.
Visa fees.
Optional activities and personal expenses.
Gratuities for guides, drivers, and hotel staff.
Pricing Information:
Accommodation Plan (A) 5 stars:
Cairo:Le Méridien – Steigenberger Pyramids- Ramses Hilton- Helnan – Barcelo Pyramids- Pyramisa
Luxor: Steigenberger Nile.
Nile cruises: MS Emilio, MS Radamis, MS Princess, MS Sara
| | 3 Stars | 4 Stars | 5 Stars |
| --- | --- | --- | --- |
| Price per person in DBL or TRPL Room | 505 $ | 520 $ | 550 $ |
| Solo traveler | 700 $ | 720 $ | 760 $ |
| Christmas & Easter – DBL or TRPL Room | 545 $ | 560 $ | 590 $ |
| Christmas & Easter – Solo Traveler | 750 $ | 770 $ | 820 $ |
Accommodation Plan (B) Luxury:
Accommodation plan Luxury: Fairmont Nile City Hotel Cairo or Mena House Royal Azur Or Hilton Cornich Hotel
| | All year round | Christmas and Easter |
| --- | --- | --- |
| Price per person in dbl room | 1000 $ | 1050 $ |
| Solo traveller | 1200 $ | 1300 $ |
Ultimate Luxury:
Cairo: Four Seasons -Marriott Mena House – Kempinski Nile Deluxe – Fairmont Nile Premium – Hyatt Regency
Luxor: Sofitel Winter Palace.
Nile cruises: Sanctuary Sun Boat – Oberoi Cruises – Movenpick Royal Cruises – Sonesta Cruises – Le Fayan – Ms Farah -MS Acamar
| | All year round | Christmas and Easter |
| --- | --- | --- |
| Price per person in dbl room | 1300 $ | 1500 $ |
| Solo traveller | 1650 $ | 1800 $ |
Tips and Advice for Travelers:
Dress Code: Respect local customs by dressing modestly, especially when visiting religious sites.
Currency: Carry Egyptian Pounds (EGP) for local transactions and small purchases. Credit cards are widely accepted in hotels and larger establishments.
Climate: Egypt has a desert climate, so pack lightweight and breathable clothing, sunscreen, and a hat. Don't forget a scarf or shawl to cover your head and shoulders when needed.
Stay Hydrated: Drink plenty of water to stay hydrated, especially during sightseeing tours.
Photography: Capture memories of your trip, but be aware of any photography restrictions at certain sites.
Safety: Follow your guide's instructions and adhere to local guidelines to ensure a safe and enjoyable experience.
FAQs:
Q: Can I customize the itinerary? A: Yes, we offer customizations to suit your needs. Contact our team to discuss adjustments to the pickup time or any other preferences.
Q: Is the tour suitable for children? A: Yes, children are welcome on the tour. We offer discounted rates for children aged 2-12.
Q: Do I need a visa to enter Egypt? A: Most nationalities require a visa to enter Egypt. Please check with your nearest Egyptian embassy or consulate for visa requirements specific to your country.