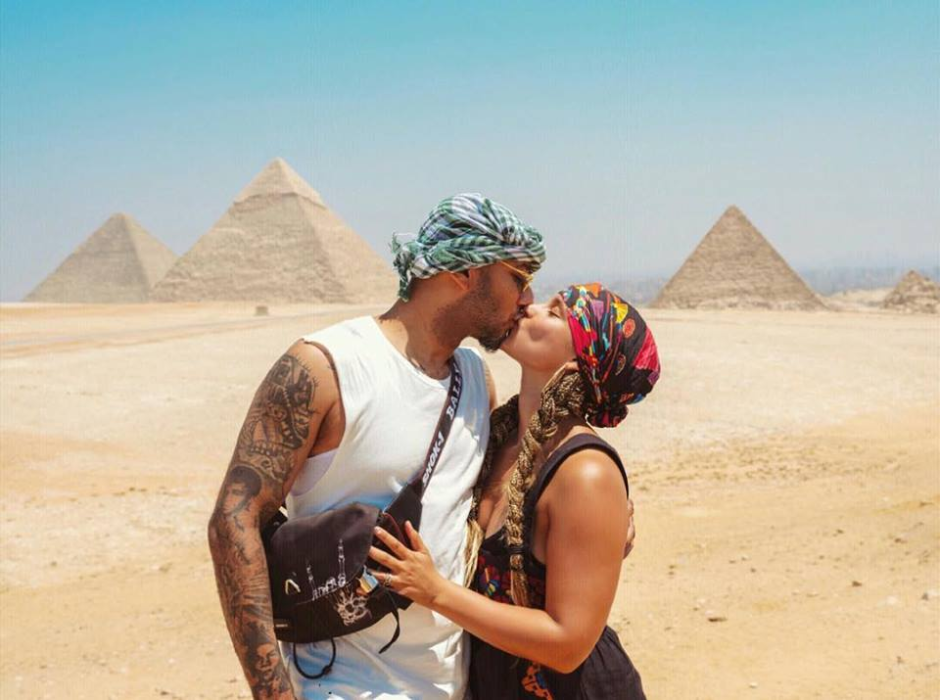 Embark on a remarkable journey through the wonders of ancient Egypt with our 6 Days Cairo & Nile Cruise Tour Package. Immerse yourself in the rich history and culture as you visit iconic landmarks, sail along the majestic Nile River, and uncover the secrets of the pharaohs. Book now for an unforgettable experience!
Overview:
Discover the best of Egypt in just six days with our carefully crafted Cairo & Nile Cruise Tour Package. From the bustling streets of Cairo to the tranquil beauty of the Nile River, this tour offers an immersive experience filled with historical sites, breathtaking landscapes, and authentic cultural encounters. With expert guides, comfortable accommodations, and seamless arrangements, we ensure a memorable and hassle-free journey through the heart of ancient Egypt.
Highlights :
Explore the Great Pyramids of Giza, including the Sphinx, and delve into the mysteries of these ancient marvels.
Visit the Egyptian Museum in Cairo and marvel at its vast collection of ancient artifacts, including the treasures of Tutankhamen.
Embark on a luxurious Nile River cruise and witness the picturesque landscapes and charming villages along the way.
Discover the ancient temples of Luxor, including the Karnak Temple Complex and the Temple of Hatshepsut.
Experience the enchanting Temple of Philae in Aswan and the High Dam, engineering marvels of modern Egypt.
Enjoy leisurely sailing on a felucca, a traditional Egyptian sailboat, and absorb the peaceful ambiance of the Nile River.
Advantages:
Expertly curated itinerary that covers the must-see attractions of Cairo and the Nile River.
Professional Egyptologist guides with extensive knowledge of ancient Egyptian history and culture.
Comfortable accommodations in Cairo and on the luxurious Nile River cruise ship.
Seamless arrangements, including airport transfers and domestic flights.
Opportunity to customize the tour to suit your preferences and travel schedule.
Itinerary:
Day 1: Arrival to Cairo – Giza Pyramids – Egyptian Museum
Upon your arrival at Cairo airport, You will then be transferred in an air-conditioned car to start your tour by visiting the Egyptian Museum of Antiquities. This museum houses a rare collection of 5000 years of art, making it the largest and most precious collection of Egyptian art in the world. With over 250,000 genuine artifacts, including the famous Tutankhamen collection of treasures, gold, and jewelry, this museum offers a fascinating glimpse into ancient Egyptian history.
Next, you will visit the Great Pyramids of Giza, including the impressive structures of Cheops, Chephren, and Mykerinos. The Great Pyramid of Cheops is the most colossal pyramid ever built, and nearby stands the Sphinx, a legendary funeral complex guarded by a lion-bodied statue with the face of King Chephren.
(Optional) In the evening, you can choose to attend the Sound & Light show in the Pyramids area, a captivating multimedia experience that brings the history of ancient Egypt to life.
Overnight stay at your hotel.
Note: If you have a late arrival and are unable to make the tour on the first day, you can take the tour on the last day before your departure flight.
Day 2: Cairo – Nile Cruise – Aswan
After breakfast, you will be transferred to the domestic airport for your flight to Aswan. Upon arrival, you will visit the High Dam, a remarkable engineering marvel, and the beautiful Philae Temple, dedicated to the goddess Isis.
Overnight on the Nile Cruise.
Note: Sailing conditions on the Nile may occasionally require adjustments to the cruise itinerary and schedule. Rest assured that our clients will have the opportunity to visit all the sites mentioned, possibly in a different order.
Day 3: Nile Cruise – Edfu – Kom Ombo
Today, the cruise will sail to Kom Ombo. Enjoy afternoon tea onboard before visiting the unique Kom Ombo Temple, which is dedicated to the gods Sobek and Haroeris. Afterwards, the cruise will continue to Edfu, where you will have dinner onboard and can join a lively disco party.
Overnight on the Nile Cruise.
Day 4: Nile Cruise – Luxor
Start your day with breakfast onboard, followed by a visit to the Temple of Horus in Edfu, one of the best-preserved ancient temples in Egypt. Afterward, the cruise will cross the lock and sail to Luxor.
(Optional) If you choose, you can begin your day tour with a private English-speaking Egyptologist guide on the east bank of Luxor. Visit the Karnak Temples, an awe-inspiring complex dedicated to the god Amun, his wife Mut, and their son Khonsu. Continue to Luxor Temple, an architectural masterpiece dedicated to Amun-Ra, Mut, and Khonsu. Marvel at the obelisk of Ramses II in front of the 1st Pylon.
Dinner onboard the cruise ship.
Overnight stay in Luxor.
Day 5: Luxor – Cairo
After breakfast onboard, disembark from the cruise ship.
(Optional) For an unforgettable experience, consider a hot air balloon ride over the Valley of the Kings, Valley of the Queens, and the Nobles' Mountain. This approximately 30 to 45-minute flight offers breathtaking views, weather permitting.
Cross to the West Bank and visit the Valley of the Kings, where you can explore the tombs of various dynasties. Continue to the Temple of Hatshepsut and the Colossi of Memnon. The Colossi of Memnon consists of two massive statues of Amenhotep III facing the Nile. Conclude your visit with the Temple of Queen Hatshepsut.
Transfer to the airport for your flight to Cairo. Upon arrival, you will be transferred to your hotel for an overnight stay in Cairo.
Day 6: Cairo – Departure
Enjoy breakfast at the hotel. Our representative will assist you with the airport transfer and final departure formalities.
Inclusions:
Airport transfers with assistance.
Domestic flights (Cairo to Luxor, Aswan to Cairo).
Accommodation in well-appointed hotels in Cairo.
Luxurious Nile River cruise accommodation with all meals included.
Guided tours with professional Egyptologist guides.
Entrance fees to all mentioned attractions.
Meals as specified in the itinerary (breakfast, lunch, and dinner on the cruise).
Exclusions:
International flights.
Visa fees and travel insurance.
Optional activities and tours.
Meals not mentioned in the itinerary.
Personal expenses and gratuities.
Pricing:
Accommodation Plan (A) 5 stars:
Cairo:Le Méridien – Steigenberger Pyramids- Ramses Hilton- Helnan – Barcelo Pyramids- Pyramisa
Luxor: Steigenberger Nile.
Nile cruises: MS Emilio, MS Radamis, MS Princess, MS Sara
| | 3 Stars | 4 Stars | 5 Stars |
| --- | --- | --- | --- |
| Price per person in DBL or TRPL Room | 845 $ | 885 $ | 925 $ |
| Solo traveler | 1285 $ | 1340 $ | 1395 $ |
| Christmas & Easter – DBL or TRPL Room | 930 $ | 975 $ | 1020 $ |
| Christmas & Easter – Solo Traveler | 1405 $ | 1465 $ | 1525 $ |
Accommodation Plan (B) Luxury:
Cairo: Kempinski – Fairmont Cairo – Hilton Curnrad -Marriott Sheraton- Hilton Golf pyramids
Luxor: Hilton – Sonesta St. George.
Nile Cruises: MS Amwaj Nile Cruise, MS Nile Premium, MS Bule shadow, MS Jaz Jubilee, Crown Emperor, Steigenberger.
| | All year round | Christmas and Easter |
| --- | --- | --- |
| Price per person in dbl room | 1700 $ | 1900 $ |
| Solo traveller | 2500 $ | 2750 $ |
Ultimate Luxury:
Cairo: Four Seasons -Marriott Mena House – Kempinski Nile Deluxe – Fairmont Nile Premium – Hyatt Regency
Luxor: Sofitel Winter Palace.
Nile cruises: Sanctuary Sun Boat – Oberoi Cruises – Movenpick Royal Cruises – Sonesta Cruises – Le Fayan – Ms Farah -MS Acamar
| | All year round | Christmas and Easter |
| --- | --- | --- |
| Price per person in dbl room | 2350 $ | 2600 $ |
| Solo traveller | 3550 $ | 3800 $ |
Tips and Advice for Travelers:
Dress comfortably and wear appropriate footwear for walking and exploring archaeological sites.
Carry a hat, sunscreen, and bottled water to protect yourself from the sun.
Respect the local customs and traditions when visiting religious sites.
Take precautions to safeguard your belongings and avoid displaying valuable items in public.
Follow the guidance of your tour guide for a safe and enjoyable experience.
Trip Notes:
This tour requires a moderate level of physical fitness due to the amount of walking and stairs involved.
The sequence of the itinerary may be subject to change based on operational requirements.
Customizations and additional services can be arranged upon request.
FAQs:
Q: How do I book this tour? A: Booking is easy! Simply click the "Book Now" button and follow the instructions to complete your reservation. You will receive instant confirmation upon booking.
Q: Can I customize the tour to fit my schedule? A: Yes, we offer customization options to suit your needs, including adjusting the pickup time and adding extra days or activities. Contact us for personalized arrangements.
Q: What is the best time to visit Egypt? A: Egypt is a year-round destination, but the most comfortable time to visit is during spring (March to May) and autumn (September to November) when the weather is pleasant for outdoor activities.