Portsaid Overnight II

Duration:2 days
Giza pyramids, the great Sphinx, Egyptian Museum, Tut Anch Amun Treasures & Alexandria highlights
Day 01:

Your Ramses Tours guide and manager will be waiting inside the Port for you. They will be holding a sign showing your name. You do not need to look for them – they will be waiting for you and will find you.
From the moment your tour starts, your guides will give you full attention. Once in the car, your guide will talk to you about all the things on the way as well as other aspects of your tour that will interest you.
Travel to the Great Pyramids; one of the Seven Wonders of the Ancient World. Visit The Great Sphinx, the Valley Temple & many outstanding photo stops.
Move on to visit the Museum of Egyptian Antiquities that includes King Tutankhamens treasures.
Enjoy lunch at local restaurant.
An optional shopping tour at the traditional bazaars where you can purchase a range of traditional souvenirs such as perfume oils, papyrus, hieroglyphics in a variety of materials etc.
From there, you will be transferred to your hotel. If you do not want to rest for the evening you can a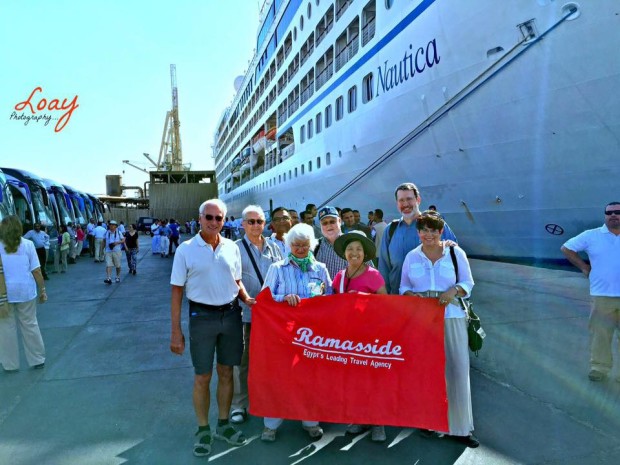 sk your tour operator to book an optional tour:
You can book an evening trip to the fabulous sound and light show at the Pyramids
Go aboard a luxurious Nile cruise ship for dinner, belly dancing and an oriental show for 2 hours
Day 02:
Breakfast in a hotel, After breakfast, your tour guide will be waiting in the lobby,travel via air-conditioned modern vehicle to Alexandria to visit
1- Visit the NEW library of Alexandria (inside) the biggest library in the world now with 8 million books
2- Catacombs. Dates back to 3rd century its mixture between Greek, Roman, Egyptian art
3-Site of lighthouse one of the seven wonders of ancient world
4-Abo Elabbas Mosque the prettiest mosque in Egypt, biggest in Alexandria
5-Palaces of Farouk, last king in history of Egypt
6- Park of Montazha.
7-unknown soldier of Alexandria, the statue of Alexander the great
8-drive along the Cornish to see the whole city passing over bridge of stanly land mark of modern Alexandria
Finally, you will be escorted back toAlexandria Port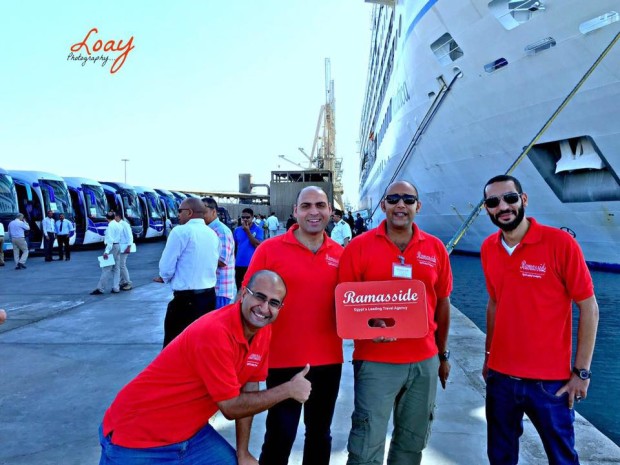 Your overnight trip from Portsaid, with Ramasside Tours, has been designed to help you enjoy the maximum amount of Egypt with the least amount of time.
If you want to customize your trip, please let us know.
Notes:
Comfortable walking shoes and sun hat are recommended.
Tour can start from Alexandria and end in Port said or vice versa.
Includes:
Pick up services from Port & return (by the cruise exit door)
All transfers by air-conditioned vehicle
B&B in a 5 star Hotel
English Egyptologist
Entrance fees to all the mentioned sites
Mineral water on board the vehicle during the tour
Lunch both days (drinks not included)
All Service charges & taxes.
Excludes (Optional) :
Sound light show
Nile cruise dinner
Camel ride
Enter inside pyramid
Accommodation Plan:
Plan A: Steigenberger Cairo Pyramids / Steigenberger Tahrir Square/Helnan DreamLand/ Ramses Hilton.
Plan B: Four Seasons/ Oberoi Mena House / Fairmont Nile city / Kempinski Nile / Sofitel Cairo/Hyatt Regency
Tour Prices:
Plan A
Steigenberger Cairo Pyramids / Steigenberger Tahrir Square/Helnan DreamLand/ Ramses Hilton.
| | | | |
| --- | --- | --- | --- |
| Single | 2- 3 Persons | 4-6 Persons | 7-10 Persons |
| 570$ | 345 $ | 330$ | 305$ |
Plan B Luxury
Four Seasons/ Oberoi Mena House / Fairmont Nile city / Kempinski Nile / Sofitel Cairo/Hyatt Regency
| | | | |
| --- | --- | --- | --- |
| Single | 2- 3 Persons | 4-6 Persons | 7-10 Persons |
| 600$ | 490$ | 470$ | 450$ |
Small Group share Tour Prices:
Join A Small Group (35 Persons) Per Person $ 290
Do you mind sharing to reduced the price To join a small group and GET A REDUCED PRICE please let us know.
To Confirm:email us : Info@ramsestours.com or info@ramassidetours.com with names, cruise arrival details..
Why pick Ramses Tours for Shore Excursions in Egypt
We understand all your concerns regarding safety and security, and that is why we are ranked number 1 in Egypt. We know that your time is limited when arriving by sea, you have to get going on your trip promptly and return in order to meet the ships schedule.
We pick you up from inside the port next to your ship. Other unlicensed companies can not provide this service and guests are forced to walk 2 kilometers to the gate of the port.

We return you to the ship within 2 hours of departure so that you are assured you will not miss your ship.

We offer fully customizable tours, want to check something out that's not in the basic tour No problem!

Looking for private tours We offer those. Looking to join a group and get a discounted rate We do that too!

We are the ONLY tour company in Egypt that lets you pick your own guide!

We are the ONLY tour company in Egypt that provides a backup vehicle along with the primary vehicle in order to make sure you arrive back at the port 2 hours before departure.

You only pay for your tour AFTER you have finished and are totally satisfied!

We understand very well, what you need. It's not just about visiting touristic sights it's much more than this. We offer a full experience in Egypt: to know it's history and also the present to see how the people live, talk with them, try their traditional food, visit their markets and of course, understand our culture and tradition. And of course, visit all the archaeological sites.

Ramasside is very selective when choosing our staff. We don't only choose qualified and professional tour guides and leaders but also choose those who are friendly, with a sense of humor who are committed to offer a superior level of service so you can enjoy your time with them.

Our tour operators , in the booking process, are not only offering you a tour but are advising you how to have a lifetime experience and how to fully enjoy and maximize your time in Egypt.

Anybody can offer you a tour in Egypt. But when booking with Ramasside, you know you're going to have a lifetime experience, not simply a tour.
We promise you the tour of your lifetime in Egypt.
Mohamed Yousef
Chairman