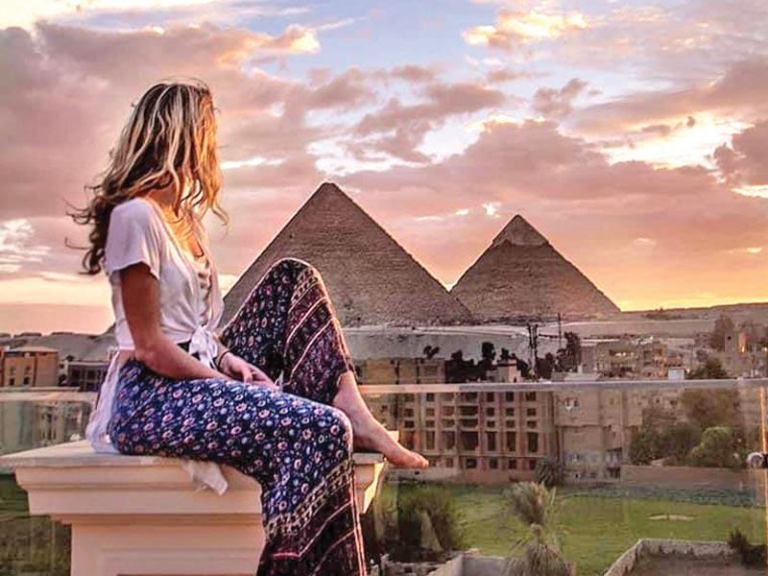 Embark on a mesmerizing journey through ancient Egypt on our 7-day Queen Nefertari Tomb & Pyramids' Best Kept Secrets Tour. Explore the enigmatic pyramids, delve into the secrets of the iconic Queen Nefertari Tomb, and immerse yourself in the rich history and culture of this fascinating land. With expert guides, comfortable accommodations, and seamless logistics, this tour is designed to provide an unforgettable experience. Book now and unlock the mysteries of Egypt's ancient wonders!
Overview:
Discover the hidden treasures of Egypt on our exclusive 7-day Queen Nefertari Tomb & Pyramids' Best Kept Secrets Tour. From the awe-inspiring pyramids of Giza to the stunning artwork in Queen Nefertari's tomb, this itinerary offers a unique and in-depth exploration of Egypt's most iconic sites. With expert guides and carefully planned excursions, you'll gain insight into the fascinating history and legends of this ancient civilization.
Highlights :
Explore the legendary pyramids of Giza and witness the Great Sphinx up close
Visit the Valley of the Kings and witness the magnificent tombs of pharaohs
Experience the grandeur of Luxor's ancient temples, including Karnak and Luxor Temple
Uncover the secrets of Queen Nefertari's tomb in the Valley of the Queens
Discover the lesser-known pyramids of Dahshur and Saqqara
Enjoy a relaxing cruise along the Nile River, taking in the scenic views and ancient sites
Advantages:
Expert Guides: Our knowledgeable Egyptologist guides will provide you with in-depth historical and cultural insights throughout the tour.
Exclusive Access: Experience the privilege of visiting the exquisite Queen Nefertari Tomb, a hidden gem not often included in standard itineraries.
Seamless Logistics: We take care of all the details, including transportation, accommodations, and entrance fees, allowing you to focus on the wonders of Egypt.
Comfortable Accommodations: Rest in carefully selected hotels and enjoy the convenience of a Nile River cruise for a relaxing and enjoyable journey.
Customizable Options: Tailor the tour to your preferences with our flexible customization options, including changing the pickup time.
Itinerary:
Day 1: Arrival in Cairo
Upon your arrival at Cairo Airport, representatives will be waiting for you and you will be taken to your hotel in an air-conditioned vehicle. Overnight in Cairo.
Day 2: Giza Pyramids / National Museum of Egyptian Civilization – Mummies Experience
After breakfast, you will start your tour by visiting the National Museum of Egyptian Civilization, which offers an overview of Egypt's different historical periods. Inside the museum, you can explore the Royal Mummies Hall, where well-preserved mummies of pharaohs like Hatshepsut, Tuthmosis, and Ramses are displayed. Later, you will visit the Great Pyramids of Giza and the Sphinx. Enjoy a camel ride for panoramic views and learn about the hidden stories of the pharaohs. Optional: Sound & Light show at the Pyramids. Overnight in Cairo.
Day 3: Aswan / Cruise – Nubian Village
After breakfast, transfer to the domestic airport for your flight to Aswan. Upon arrival, visit the Philae Temple and then take a motorboat to experience life in a traditional Nubian village on the west bank of the Nile River. Explore the village, interact with a Nubian family, and learn about their customs and culture. Transfer to the cruise ship. Overnight on the cruise.
Day 4: Cruise
Sail to Kom Ombo and visit the temple dedicated to the gods Sobek and Haroeris. Continue sailing to Edfu, enjoy dinner on board, and participate in a disco party. Overnight in Edfu.
Day 5: Cruise
After breakfast on board, visit the Temple of Horus in Edfu. Cross the lock and sail to Luxor. Transfer to visit the Karnak Temples, dedicated to the gods Amun, Mut, and Khonsu. Then, visit Luxor Temple, built by Amunhotep III and completed by Ramesses II. Enjoy the Obelisk of Ramses II. Dinner on board and Galabya party. Overnight in Luxor.
Day 6: Luxor– Fly to Cairo
Disembark and cross to the West Bank of Luxor. Visit the Valley of the Kings and explore the tomb of Tutankhamun. Continue to the Valley of the Queens, where you can visit the colorful tomb of Queen Nefertari. Then, visit the Temple of Queen Hatshepsut and the Colossi of Memnon. Transfer to the airport for your flight to Cairo. Overnight in Cairo.
Day 7: Cairo Food Tour – Final Departure
If your departure flight time allows, you'll embark on a Cairo food tour, experiencing the authentic taste of Egyptian cuisine at off-the-beaten-path spots. Explore the best places to eat in Egypt and enjoy delicious food tastings. Finally, you will be transferred to the airport for your departure.
Inclusions:
Airport transfers
Accommodation in 4 or 5-star hotels
Nile River cruise accommodation
Domestic flights within Egypt
Expert Egyptologist guide
Entrance fees to attractions mentioned in the itinerary
Meals as specified in the itinerary
All transportation during the tour
Exclusions:
International flights
Visa fees
Optional tours and activities
Personal expenses
Tips for guides and drivers
Pricing Information:
Accommodation Plan (A) 5 stars:
Cairo:Le Méridien – Steigenberger Pyramids- Ramses Hilton- Helnan – Barcelo Pyramids- Pyramisa
Luxor: Steigenberger Nile.
Nile cruises: MS Emilio, MS Radamis, MS Princess, MS Sara
| | 3 Stars | 4 Stars | 5 Stars |
| --- | --- | --- | --- |
| Price per person in DBL or TRPL Room | 1400 $ | 1450 $ | 1550 $ |
| Solo traveler | 1985 $ | 2025 $ | 2070 $ |
| Christmas & Easter – DBL or TRPL Room | 1470 $ | 1600 $ | 1790 $ |
| Christmas & Easter – Solo Traveler | 2210 $ | 2255 $ | 2305 $ |
Accommodation Plan (B) Luxury:
Cairo: Kempinski – Fairmont Cairo – Hilton Curnrad -Marriott Sheraton- Hilton Golf pyramids
Luxor: Hilton – Sonesta St. George.
Nile Cruises: MS Amwaj Nile Cruise, MS Nile Premium, MS Bule shadow, MS Jaz Jubilee, Crown Emperor, Steigenberger.
| | All year round | Christmas and Easter |
| --- | --- | --- |
| Price per person in dbl room | 2150 $ | 2350 $ |
| Solo traveller | 3100 $ | 3550 $ |
Ultimate Luxury:
Cairo: Four Seasons -Marriott Mena House – Kempinski Nile Deluxe – Fairmont Nile Premium – Hyatt Regency
Luxor: Sofitel Winter Palace.
Nile cruises: Sanctuary Sun Boat – Oberoi Cruises – Movenpick Royal Cruises – Sonesta Cruises – Le Fayan – Ms Farah -MS Acamar
| | All year round | Christmas and Easter |
| --- | --- | --- |
| Price per person in dbl room | 2870 $ | 3550 $ |
| Solo traveller | 4750 $ | 5250 $ |
Tips and Advice for Travelers:
Dress comfortably and wear suitable footwear for walking and exploring archaeological sites.
Stay hydrated and protect yourself from the sun with sunscreen, hats, and sunglasses.
Respect local customs and traditions when visiting religious sites.
Exchange some local currency (Egyptian pounds) for small expenses and tips.
Follow the guidance of your Egyptologist guide and adhere to the instructions provided for your safety.
Trip Notes:
The tour involves moderate walking and may include steps and uneven surfaces.
Itinerary may be subject to change due to local conditions or unforeseen circumstances.
Queen Nefertari Tomb access is limited and subject to availability.
Additional optional tours and activities can be arranged upon request.
FAQs:
Q: How can I book this tour? A: Booking is quick and easy! Click the "Book Now" button and follow the instructions to reserve your spot. Instant confirmation is available upon booking.
Q: Can I customize the tour to suit my preferences? A: Absolutely! We offer flexible customization options, including changing the pickup time. Contact us to discuss your requirements and create a tailored itinerary.
Q: What is the best time to visit Egypt? A: Egypt can be enjoyed year-round, but the best time to visit is during spring (March to May) and autumn (September to November) when temperatures are moderate.