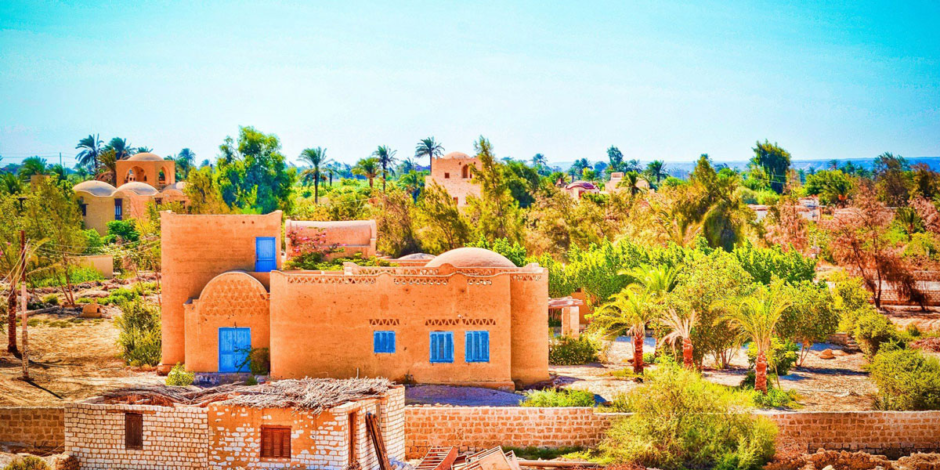 Embark on an enchanting journey to Fayoum Oasis from Cairo and immerse yourself in the breathtaking natural landscapes and cultural treasures of this hidden gem. Explore ancient ruins, witness the mesmerizing Lake Qarun, and experience the warm hospitality of the local community. Join us on this unforgettable tour and create memories that will last a lifetime.
Overview:
Our Tour to Fayoum Oasis from Cairo offers a unique opportunity to escape the bustling city and discover the serene beauty of this oasis nestled in the heart of the desert. From ancient archaeological sites to pristine natural wonders, this tour combines history, culture, and natural splendor. Experience the wonders of Fayoum Oasis, including the majestic Lake Qarun, the captivating ruins of Karanis, and the vibrant local markets. With our expert guides and comfortable transportation, you'll enjoy a seamless and unforgettable journey through this hidden oasis.
Highlights:
Lake Qarun: Marvel at the shimmering beauty of Lake Qarun, Egypt's third-largest lake and a haven for wildlife.
Karanis Ruins: Explore the ancient city of Karanis, an archaeological site that provides insights into the Greco-Roman era.
Wadi El-Rayan: Witness the breathtaking natural wonders of Wadi El-Rayan, a protected area featuring stunning waterfalls and serene lakes.
Local Culture and Markets: Immerse yourself in the vibrant culture of Fayoum Oasis, visit local markets, and interact with the friendly locals.
Valley of Whales: Optional visit to the Valley of Whales, a UNESCO World Heritage Site that preserves fossil remains of ancient marine life.
Advantages:
Hassle-Free Experience: We take care of all the logistics, including transportation, entrance fees, and expert guides, allowing you to relax and enjoy the journey.
Local Expertise: Benefit from the knowledge and insights of our experienced guides who will enhance your understanding of Fayoum's history, culture, and natural heritage.
Customizable Options: We offer customizable tour options, including flexible pickup times, to accommodate your preferences and ensure a personalized experience.
Instant Confirmation: Book now and receive instant confirmation upon clicking the "Book Now" button, guaranteeing your spot on this unforgettable tour.
Itinerary:
You will be picked up very early in the morning from your hotel in Cairo, accompanied by your personal tour guide. You will embark on a 95 km journey southwest of Cairo in a modern private A/C vehicle, heading to Fayoum City. This trip will allow you to witness the highlights of the city, including the following:
Qarun Lake: Prepare to be amazed by the truly enchanting natural scenery when you visit the oldest natural lake in the world, Qarun Lake. Covering nearly 53 thousand acres of Fayoum Valley, this lake served as the main water source for the area of Fayoum Oasis. In ancient times, the oasis was inhabited for agriculture and hunting purposes.
Wadi El Rayan: This is one of the world's most exceptional protected areas, known for its serene desert environment, captivating sand dunes, and natural springs. It is also home to a diverse range of sea fossils and various types of botanical life. While exploring Wadi El Rayan, you will have the opportunity to discover the marvelous waterfalls of Fayoum, as well as the Wadi Hitan Area.
Lunch Time: You will have a delicious lunch at a local restaurant in Fayoum City, where you can savor the flavors of the region.
After lunch, you will be driven back to Cairo, concluding your tour of the city highlights in Fayoum.
Inclusions:
Hotel pickup and drop-off in Cairo
Private air-conditioned transportation
Professional English-speaking guide
Entrance fees to mentioned sites
Lunch at a local restaurant
Bottled water
Exclusions:
Optional visit to the Valley of Whales (additional fee)
Gratuities (optional)
Personal expenses
Pricing:
Adult: $140
Child (5-12 years): $90
Infant (0-4 years): Free
Tips and Advice for Travelers:
Wear comfortable clothing and footwear suitable for walking and exploring archaeological sites.
Protect yourself from the sun by wearing a hat, sunglasses, and sunscreen.
Carry a refillable water bottle to stay hydrated throughout the tour.
Respect the local culture and traditions, and follow any guidelines provided by your guide.
Bring some cash for personal expenses and souvenirs.
Trip Notes:
This tour is suitable for travelers of all ages and fitness levels.
Restroom facilities are available at designated stops during the tour.
Please inform us in advance of any special requirements or medical conditions.
FAQs:
Q: Is hotel pickup included? A: Yes, hotel pickup and drop-off in Cairo are included in the tour package.
Q: Can I visit the Valley of Whales? A: Yes, the Valley of Whales visit is optional and requires an additional fee. Please inform us in advance if you would like to include it in your tour.
Q: Are meals included in the tour? A: Yes, a delicious lunch at a local restaurant is included in the tour package.
Q: Can I customize the tour? A: Absolutely! We offer customizable options, including changing the pickup time, to suit your preferences. Please contact us for any customization requests.
Other Tours You Might Like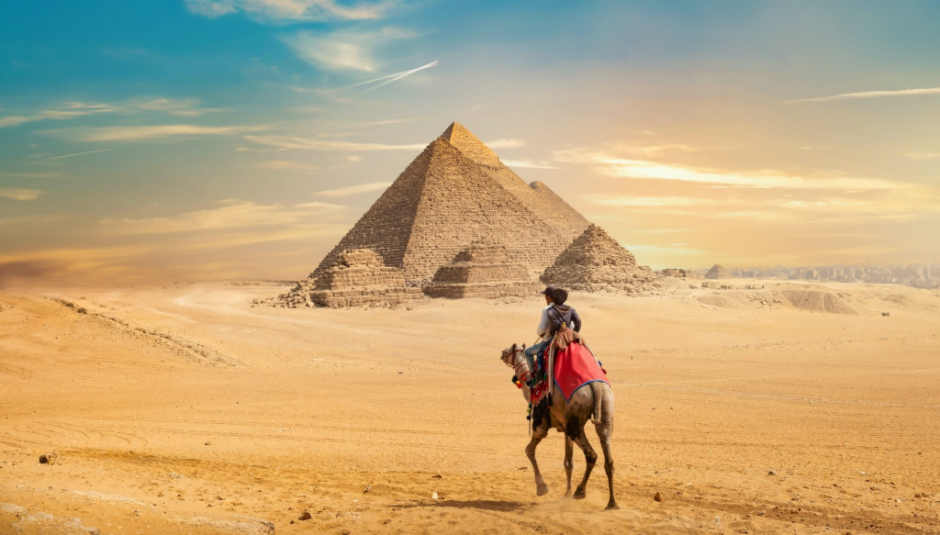 The Great Pyramids of Giza & Sphinx *Top Selling*
Embark on an unforgettable journey through time and immerse yourself in the wonders of Ancient Egypt. Join us on our top-selling tour to the Great Pyramids of Giza and Sphinx, where you'll witness architectural marvels and unravel the secrets of this ancient civilization. Explore the enigmatic pyramids, marvel at the iconic Sphinx, and delve into the fascinating history that has captivated travelers for centuries. Get ready for an awe-inspiring adventure that will leave you in awe of the magnificent legacy of the Pharaohs View Tour Details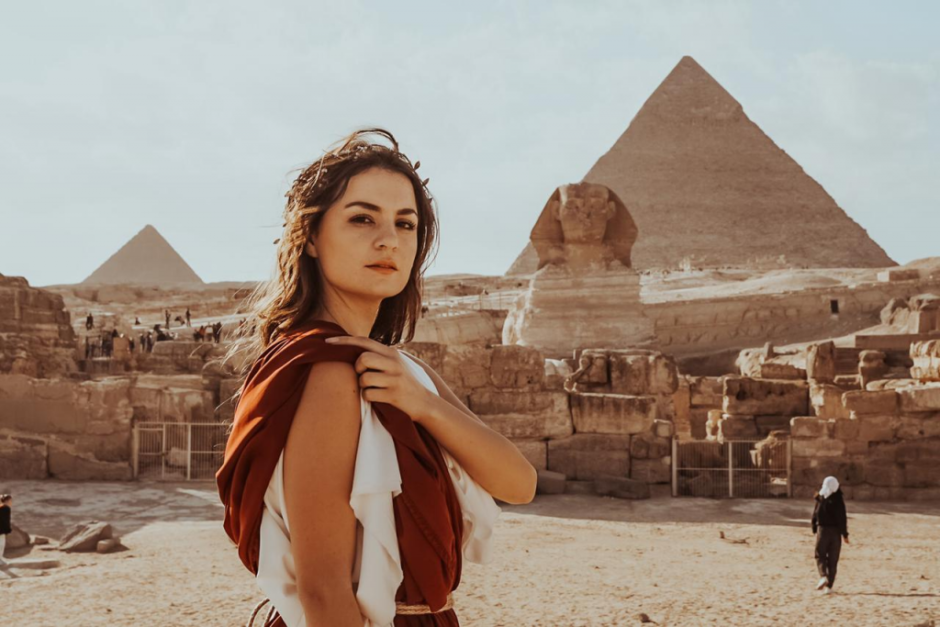 Pyramids & Egyptian Museum *Top Selling*
Immerse yourself in the rich tapestry of Ancient Egypt with our top-selling tour that combines the awe-inspiring Pyramids of Giza with a visit to the renowned Egyptian Museum. Journey through time as you explore the magnificent pyramids and witness firsthand the remarkable artifacts that have survived for thousands of years. This comprehensive itinerary guarantees an unforgettable experience as you delve into the secrets of the pharaohs and their remarkable civilization View Tour Details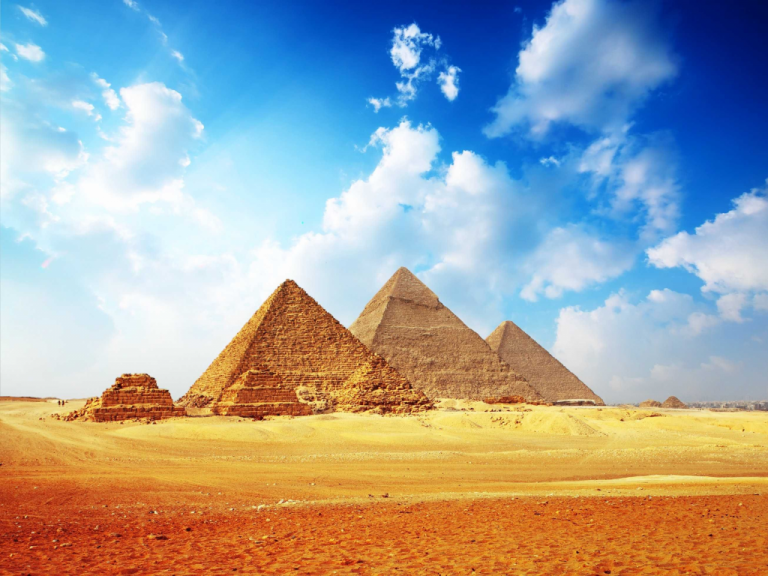 Make the most of your layover in Cairo with our exciting Cairo Layover Tour. Experience the perfect blend of ancient wonders and modern delights as you explore the iconic Pyramids of Giza, soak in the vibrant atmosphere of bustling Cairo, and discover the treasures of the Egyptian Museum. This carefully crafted itinerary ensures you maximize your time in Cairo, providing an unforgettable taste of Egypt's rich history and vibrant culture View Tour Details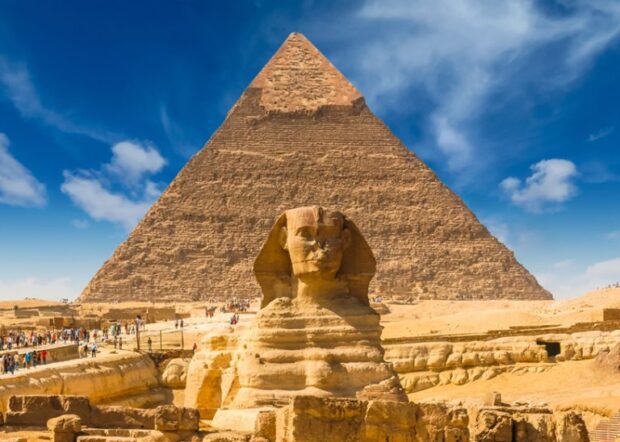 Pyramids, Memphis & Sakkara Day Tour
Immerse yourself in the wonders of ancient Egypt on our Pyramids, Memphis & Sakkara Day Tour. Explore the iconic Pyramids of Giza, discover the ancient city of Memphis, and marvel at the impressive Step Pyramid of Sakkara. This comprehensive itinerary takes you on a journey through time, unraveling the mysteries of the Pharaohs and their majestic civilization. Prepare to be captivated by the architectural marvels and rich history that await you on this unforgettable day tour View Tour Details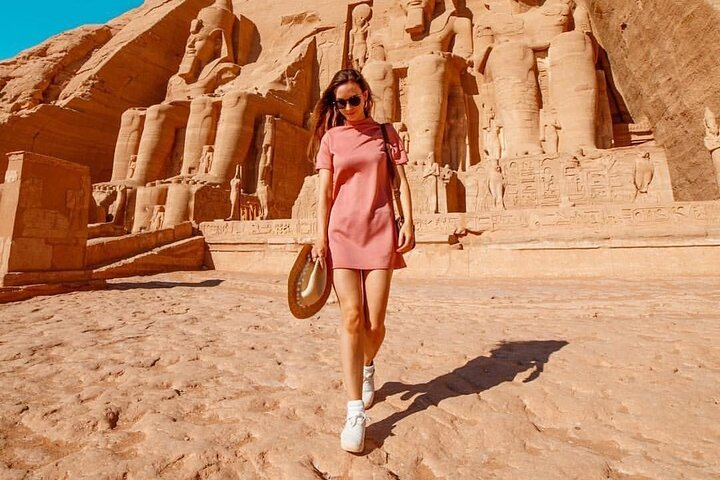 Embark on a breathtaking adventure to Luxor, the crown jewel of ancient Egypt, with our Luxor Trip by Flight. Experience the magnificence of this open-air museum as you explore the awe-inspiring temples of Karnak and Luxor, witness the grandeur of the Valley of the Kings, and stroll along the iconic Avenue of Sphinxes. This carefully curated itinerary ensures you make the most of your time in Luxor, immersing you in the fascinating history and architectural wonders of this ancient city View Tour Details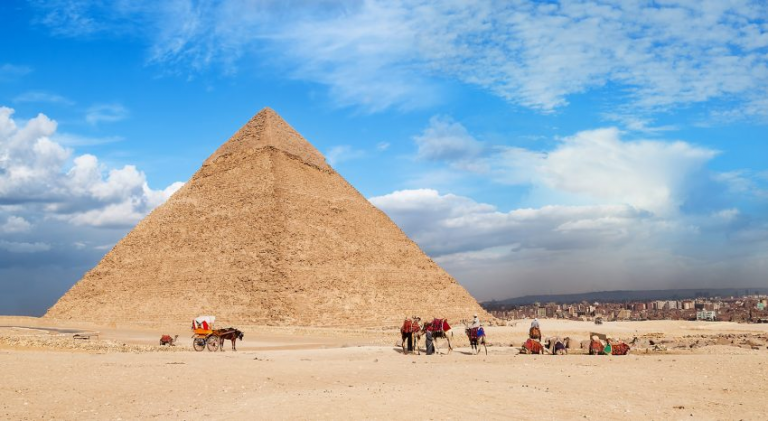 Camel Ride Excursion by The Pyramids
Immerse yourself in the mystical allure of the Pyramids of Giza with our unforgettable Camel Ride Excursion. Traverse the sandy dunes like the ancient nomads and witness the iconic pyramids from a unique perspective. This once-in-a-lifetime experience lets you relive the footsteps of history while basking in the majestic beauty of the Great Pyramid, Khafre Pyramid, and Menkaure Pyramid. Don't miss the chance to create lasting memories with this enchanting journey into the heart of ancient Egypt View Tour Details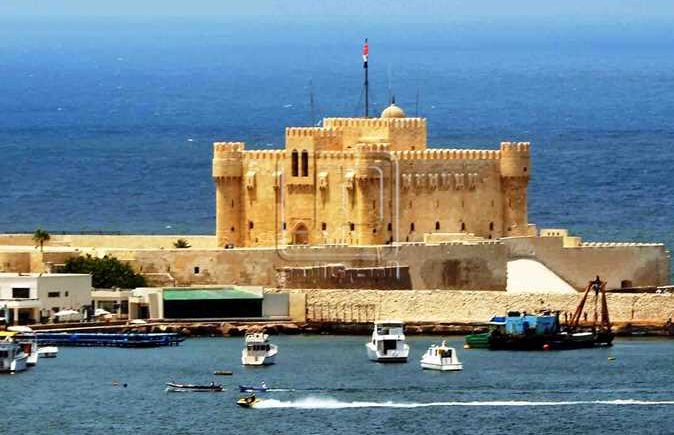 Alexandria Day Tour from Cairo
Escape the bustling streets of Cairo and embark on a captivating journey to Alexandria, the gem of the Mediterranean. Our Alexandria Day Tour from Cairo allows you to discover the rich history, stunning landmarks, and coastal charm of this enchanting city. From the iconic Qaitbay Citadel to the ancient Catacombs of Kom El Shoqafa, immerse yourself in the wonders of Alexandria as you explore its vibrant streets, stroll along its picturesque corniche, and soak in the captivating blend of ancient and modern culture View Tour Details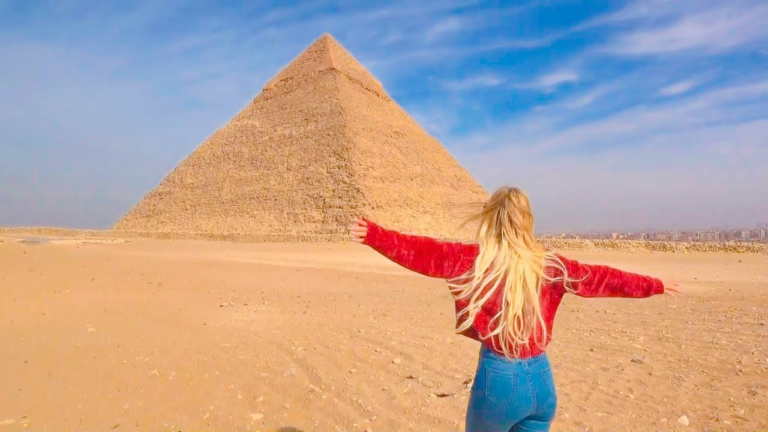 Discover the treasures of Egypt during your layover in Cairo with our exclusive Cairo Stopover Tour. Immerse yourself in the fascinating history and culture of this ancient city as you explore iconic landmarks, visit awe-inspiring pyramids, stroll through bustling markets, and indulge in delicious Egyptian cuisine View Tour Details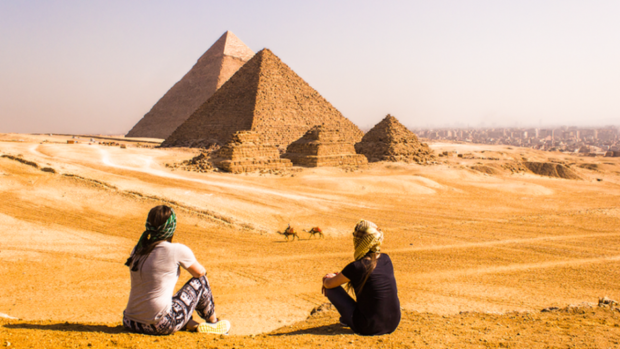 Day Tour in Cairo And The Pyramids
Discover the magnificent treasures of Cairo and immerse yourself in the rich history of ancient Egypt with our exclusive Day Tour in Cairo and The Pyramids. Explore the legendary Giza Pyramids Complex, witness the awe-inspiring Great Pyramid of Khufu, marvel at the enigmatic Great Sphinx, and delve into the cultural wonders of Al Muizz Street. This comprehensive tour package offers an unforgettable journey through time, allowing you to witness the splendor of the pharaohs and the enduring legacy they left behind View Tour Details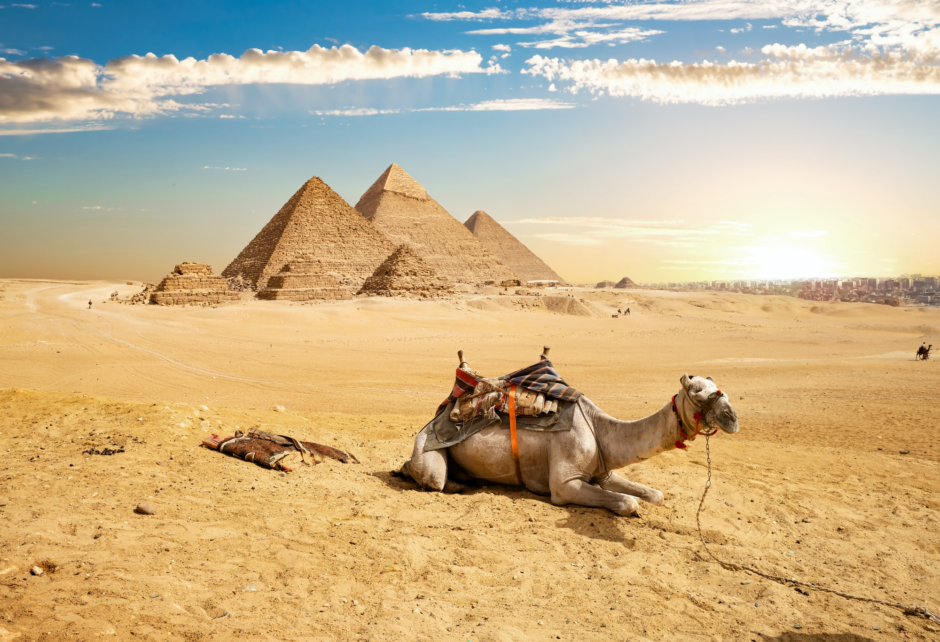 Day Trip to Pyramids From Cairo
Embark on a captivating journey to the iconic Pyramids of Giza on our Day Trip to Pyramids From Cairo. Immerse yourself in the mystique of ancient Egypt as you explore the awe-inspiring Giza Pyramids Complex, home to the magnificent pyramids, the enigmatic Sphinx, and the fascinating Valley Temple. Uncover the secrets of the pharaohs, witness architectural marvels, and marvel at priceless artifacts View Tour Details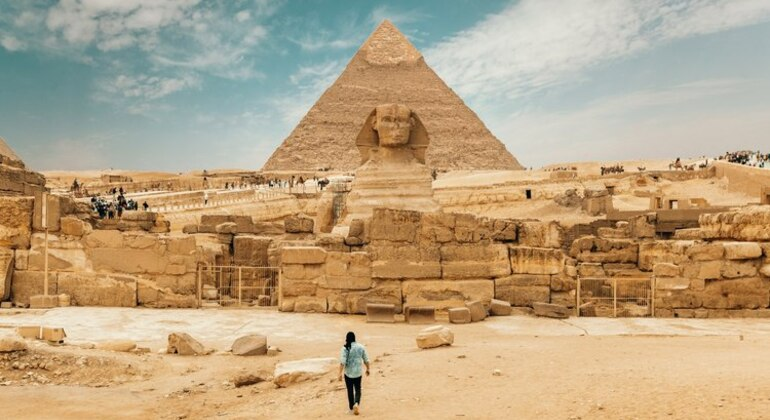 Saqqara & Memphis Tour from Cairo
Embark on a captivating journey through time with our Saqqara & Memphis Tour from Cairo. Discover the hidden gems of ancient Egypt as you explore the magnificent Saqqara Step Pyramid and the legendary city of Memphis. Immerse yourself in the rich history and architectural marvels that have stood the test of time View Tour Details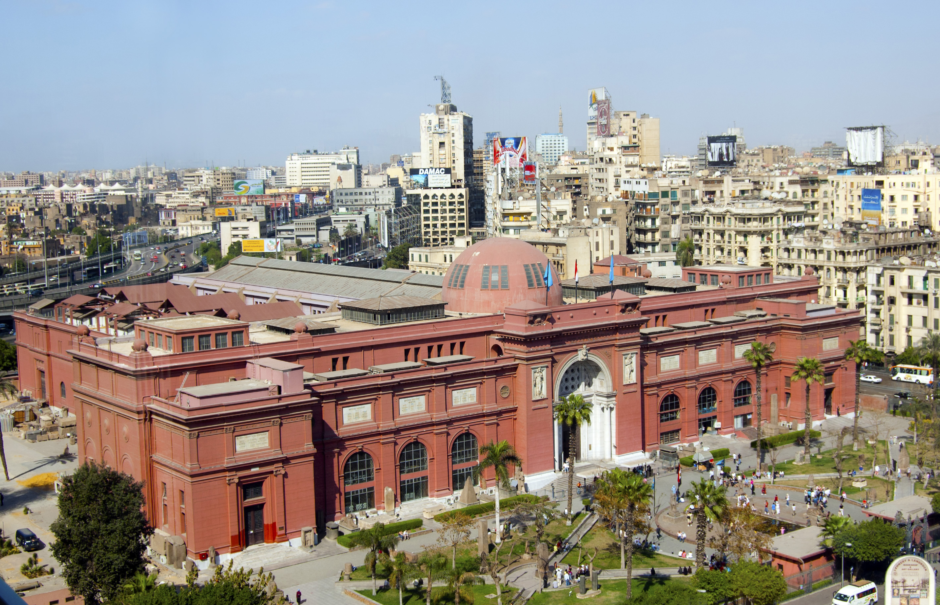 Half-Day Tour to the Egyptian Museum
Embark on a mesmerizing journey through time with our Half-Day Tour to the Egyptian Museum. Discover the awe-inspiring collection of ancient Egyptian artifacts, including the famous treasures of Tutankhamun. Explore the rich history, artistry, and cultural heritage that have shaped Egypt's past View Tour Details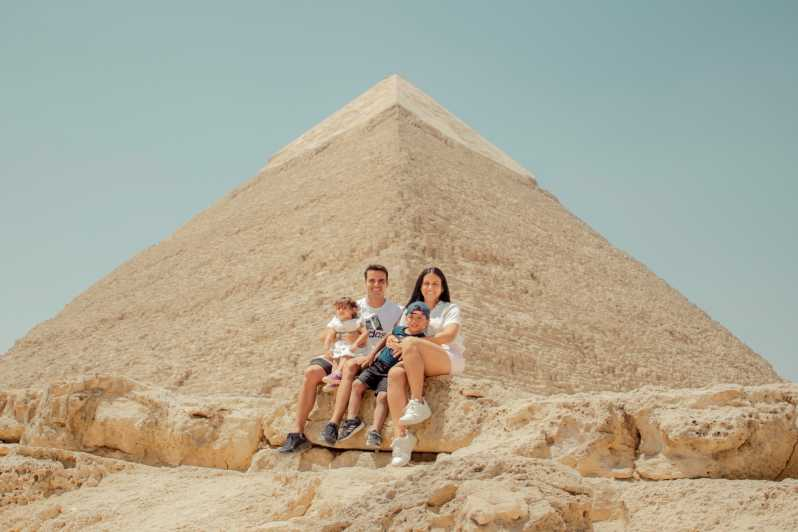 Half Day Pyramids Tour in Cairo
Embark on an extraordinary adventure through the sands of time with our Half Day Pyramids Tour in Cairo. Explore the iconic Giza Pyramids, witness the enigmatic Sphinx, and delve into the ancient wonders of the Valley Temple. Immerse yourself in the grandeur of the ancient Egyptian civilization as you unravel the secrets of these magnificent structures. Join us for an unforgettable journey and create lasting memories of Egypt's awe-inspiring treasures View Tour Details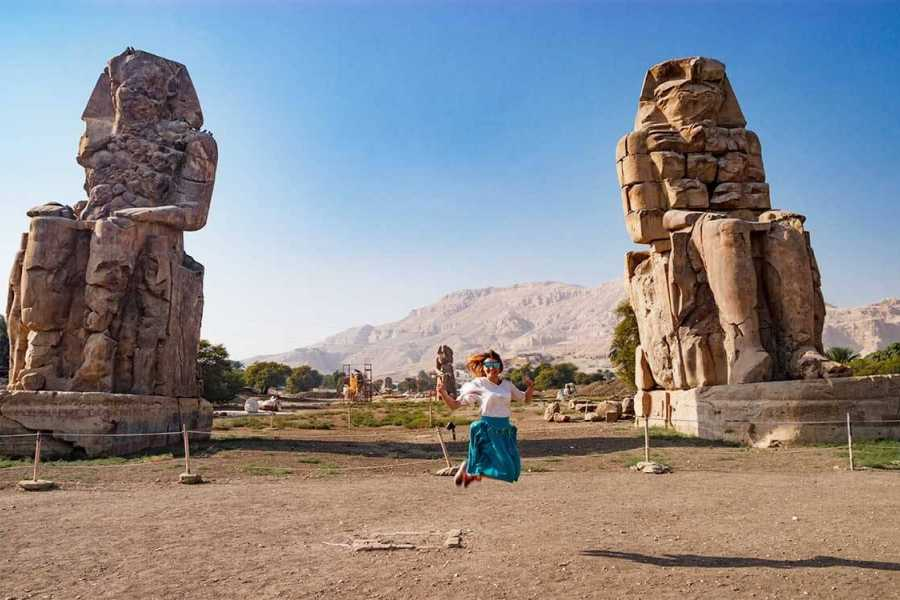 Day Tour From Cairo To Luxor By Plane
Our Day Tour from Cairo to Luxor offers a unique opportunity to discover the treasures of this ancient city. Luxor, located on the east bank of the Nile River, was once the capital of Egypt and is now a UNESCO World Heritage site. From the majestic Karnak Temple to the breathtaking Valley of the Kings, this tour will take you on a captivating journey through the splendors of ancient Egyptian civilization View Tour Details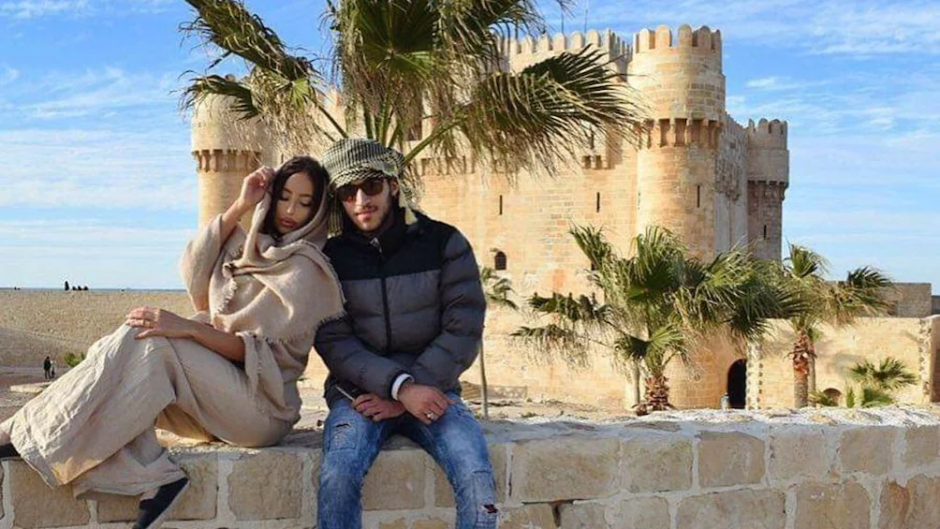 Day Trip to Alexandria From Cairo by Car For American Travelers
Embark on a captivating journey from Cairo to Alexandria, as we take you on a day trip to uncover the ancient wonders of this coastal city. From the magnificent Library of Alexandria to the historic Citadel of Qaitbay, this tour offers a perfect blend of cultural exploration and seaside charm. Immerse yourself in the rich history and vibrant atmosphere of Alexandria, and create memories that will last a lifetime View Tour Details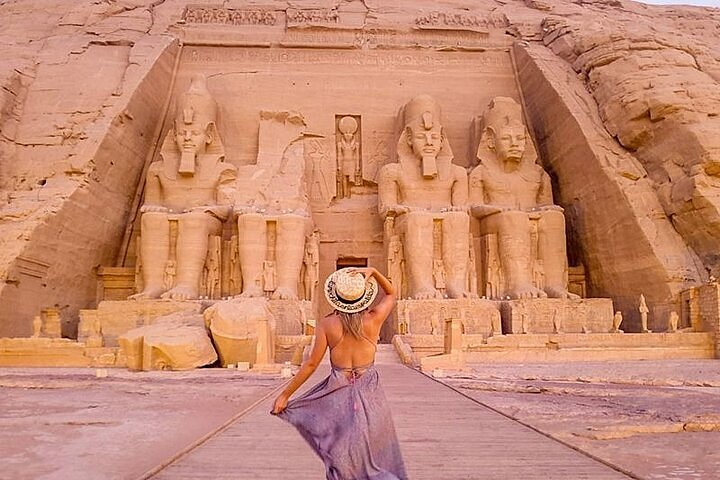 Day Tour To Abu Simbel From Cairo by Plane
Embark on an extraordinary day trip from Cairo to Abu Simbel, a site of immense archaeological significance. Discover the iconic temples built by the great Ramses II and his beloved queen, Nefertari. Our hassle-free tour ensures a seamless experience, with round-trip flights, guided tours, and convenient transfers. Delve into the mysteries of ancient Egypt and witness the awe-inspiring wonders of Abu Simbel View Tour Details
Discover the majestic Giza Pyramids like never before with our thrilling Camel Ride tour. Immerse yourself in the rich history and awe-inspiring beauty of the ancient world as you embark on a memorable adventure through the desert landscape. Experience the iconic pyramids from a unique perspective, riding atop a gentle camel companion. Join us for an unforgettable journey that will leave you with lifelong memories View Tour Details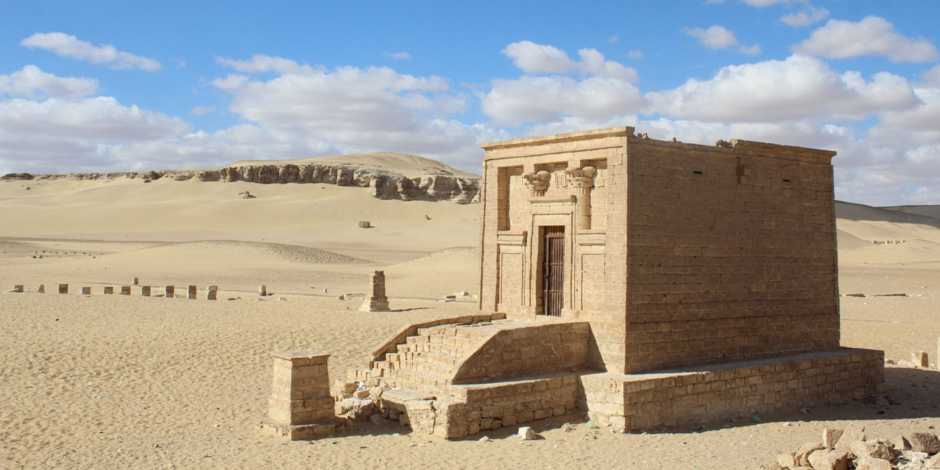 Trip to Tel Amarna & Beni Hassan From Cairo
Embark on a captivating journey through time as you explore the treasures of Ancient Egypt on our Tel Amarna & Beni Hassan Tour from Cairo. Witness the remnants of an ancient city at Tel Amarna and marvel at the well-preserved tombs in Beni Hassan. Immerse yourself in the rich history and architectural wonders of these archaeological sites View Tour Details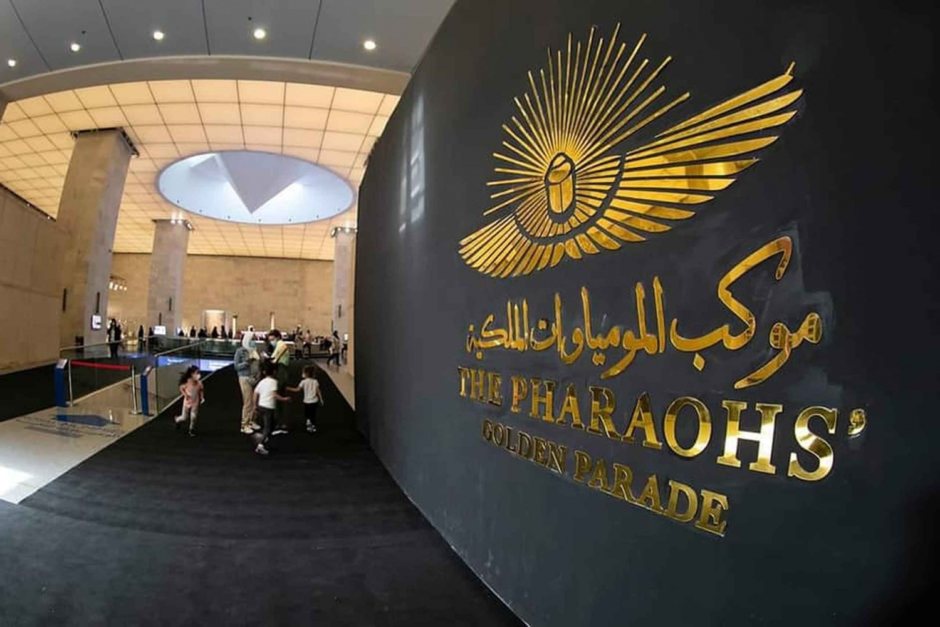 Best of Cairo Include The National Museum of Egyptian Civilization Tour
Our Best of Cairo tour offers a comprehensive exploration of the city's most iconic landmarks and a chance to delve into the rich heritage of Ancient Egypt. Led by our expert Egyptologist, the tour includes a visit to the National Museum of Egyptian Civilization, a repository of historical artifacts, mummies, and exhibits that take you on a captivating journey through the millennia. With convenient transportation, customizable options, and knowledgeable guides, this tour promises an unforgettable experience for all View Tour Details
Wadi El Hitan & Desert Safari Tour From Cairo
Embark on an unforgettable adventure with our Wadi El Hitan & Desert Safari Tour from Cairo. Discover the wonders of the Fossil Valley, a UNESCO World Heritage Site, and immerse yourself in the breathtaking landscapes of the desert. Join us as we delve into the ancient secrets preserved in the fossils and enjoy an exhilarating desert safari experience View Tour Details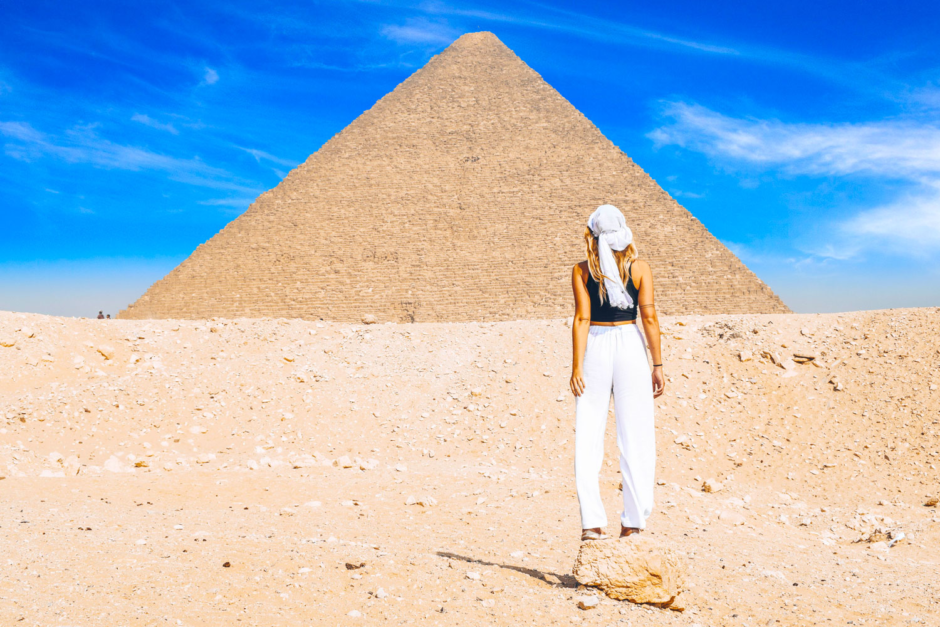 Pyramids Tour From Cairo Airport
If you have limited time during your layover at Cairo Airport, our Pyramids Tour is the perfect way to explore the magnificent Giza Pyramids Complex. Witness the awe-inspiring structures that have captivated travelers for centuries and delve into the mysteries of ancient Egypt. This guided tour ensures you make the most of your time, providing an immersive experience that will leave you in awe View Tour Details