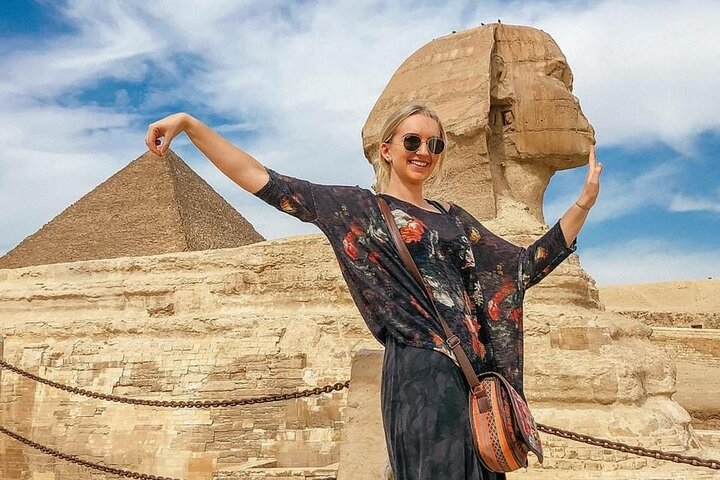 As the golden sands of Egypt stretch far and wide, one enigmatic guardian rises from the heart of the Giza Plateau—the Sphinx. This monumental sculpture, with the body of a lion and the head of a pharaoh, has been a symbol of mystery, power, and ancient wisdom for millennia. In this authoritative blog post, we embark on a journey to explore the captivating history, symbolism, and significance of the Sphinx.
The Sphinx: A Timeless Enigma
1. A Living Legend:
The Great Sphinx of Giza, often simply referred to as the Sphinx, is one of the most recognizable and enduring symbols of ancient Egypt. It stands on the west bank of the Nile River, guarding the Pyramids of Giza, including the Great Pyramid, the largest of them all.
2. Monumental Dimensions:
This colossal sculpture measures approximately 66 feet (20 meters) in height, 241 feet (73 meters) in length, and its face is about 14 feet (4.2 meters) wide. It is an awe-inspiring sight, both for its size and its enduring presence.
3. The Sphinx's Unique Form:
The Sphinx combines the body of a lion with the head of a pharaoh, believed by many to represent Pharaoh Khafre, who ruled during Egypt's Old Kingdom. The image symbolizes the fusion of the strength and wisdom of the pharaoh.
4. Age and Origin:
The exact date of the Sphinx's construction remains a subject of debate among historians and archaeologists. It is generally believed to have been built during the reign of Pharaoh Khafre, around 2500 BC, making it over 4,500 years old.
5. Symbolism and Purpose:
The Sphinx is widely considered a guardian figure, watching over the necropolis of Giza and protecting the tombs of pharaohs. Its location near the pyramids and the rising sun may symbolize its role in ushering souls into the afterlife.
6. The Riddle of the Sphinx:
The Sphinx has inspired countless legends and tales, including the famous Greek myth of the Sphinx posing a riddle to travelers. Those who couldn't solve the riddle were said to be devoured, while those who succeeded were allowed to pass safely.
7. Restoration and Preservation:
Over the centuries, the Sphinx has faced various challenges, including erosion and damage. Restoration efforts have been ongoing, and today, visitors can admire the Sphinx in a partially restored state.
Visiting the Sphinx: A Profound Experience
1. Pyramids of Giza Complex:
The Sphinx is an integral part of the Pyramids of Giza complex, one of the Seven Wonders of the Ancient World. Visitors exploring the pyramids often find themselves drawn to this enigmatic guardian.
2. The Sphinx Enclosure:
The Sphinx is surrounded by an enclosure that allows visitors to approach it closely. You can admire its colossal form and contemplate the mysteries it embodies.
3. Nighttime Illumination:
For a truly magical experience, consider visiting the Sphinx in the evening when it's illuminated. The play of light and shadow adds to the mystique of this ancient sentinel.
Other Tours You Might Like
4 Days Cairo & Alexandria Egypt Tour Package
Discover the highlights of Egypt's history and culture with our 4-day Cairo & Alexandria tour package. Immerse yourself in the vibrant streets of Cairo, visit iconic landmarks such as the Pyramids of Giza, and explore the coastal beauty of Alexandria. Book Now
4 Days Cairo & Luxor Egypt Tour Package
Immerse yourself in the captivating history of Egypt with our 4-day Cairo & Luxor tour package. Explore the iconic landmarks of Cairo, including the Pyramids of Giza and the Egyptian Museum, and journey to the majestic city of Luxor to witness the breathtaking temples and tombs of ancient pharaohs. Book Now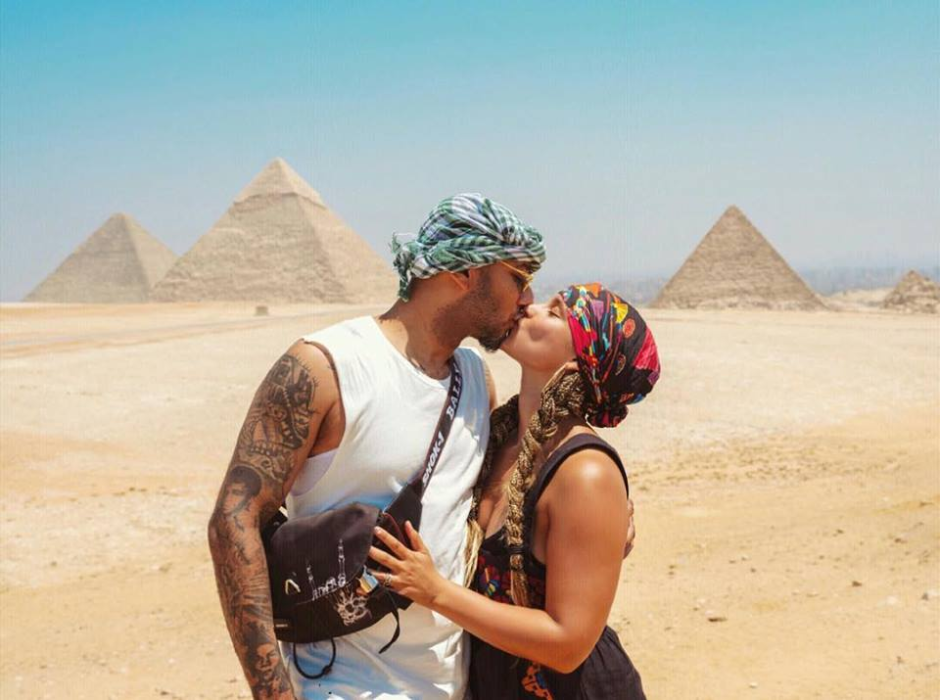 6 Days Cairo & Nile Cruise Egypt Tour Package
Experience the best of Egypt's history, culture, and natural beauty with our 6-day Cairo & Nile Cruise tour package. Discover the iconic landmarks of Cairo, including the Pyramids of Giza and the Egyptian Museum, and embark on a luxurious Nile River cruise, sailing through ancient sites and charming villages. Book Now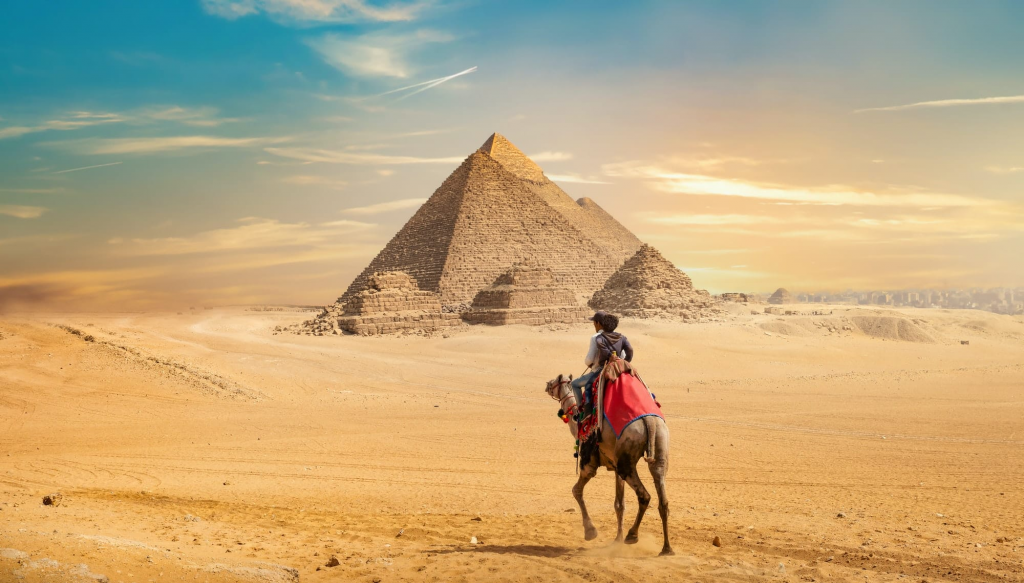 Queen Nefertari Tomb & Pyramids' Egypt Tour Package
Discover the treasures of ancient Egypt with our Queen Nefertari Tomb & Pyramids Egypt Tour Package. This meticulously designed itinerary will take you on a captivating expedition, allowing you to explore the legendary Queen Nefertari Tomb and experience the awe-inspiring Pyramids of Giza. Book Now
7 Days Cairo & Nile Cruise Egypt Tour Package
Experience the ultimate Egyptian adventure with our 7-day Cairo & Nile Cruise Tour Package. Immerse yourself in the captivating history and timeless beauty of Egypt as you explore the iconic landmarks of Cairo and sail along the majestic Nile River. Book Now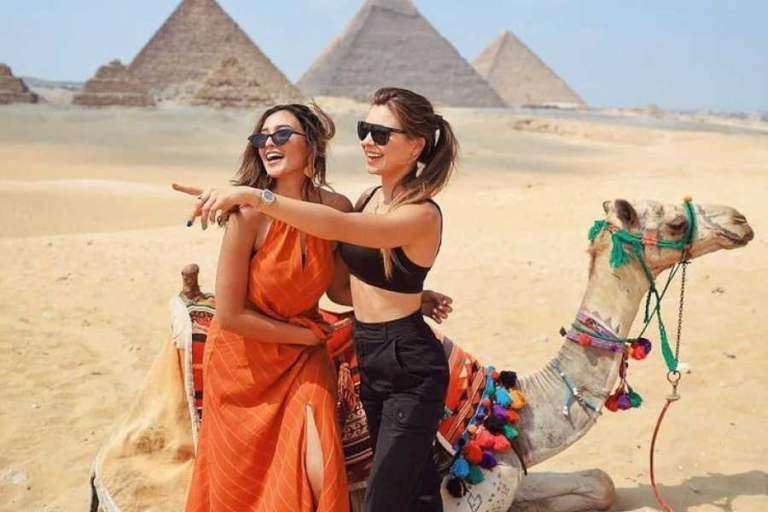 8 Days Cairo, Alexandria & Nile Cruise Egypt Tour Package by Flight
Immerse yourself in the mesmerizing beauty of Egypt with our 8-day Cairo, Alexandria & Nile Cruise Tour Package by Flight. This carefully curated itinerary combines the rich history of Cairo, the coastal charm of Alexandria, and the enchanting experience of a Nile River cruise. Book Now
Queen Nefertari Tomb & Great Pyramids Egypt Tour Package
Embark on a remarkable adventure through Egypt's ancient wonders with our Queen Nefertari Tomb & Great Pyramids Tour Package. Immerse yourself in the captivating history and awe-inspiring beauty of Queen Nefertari's tomb and the Great Pyramids. Book Now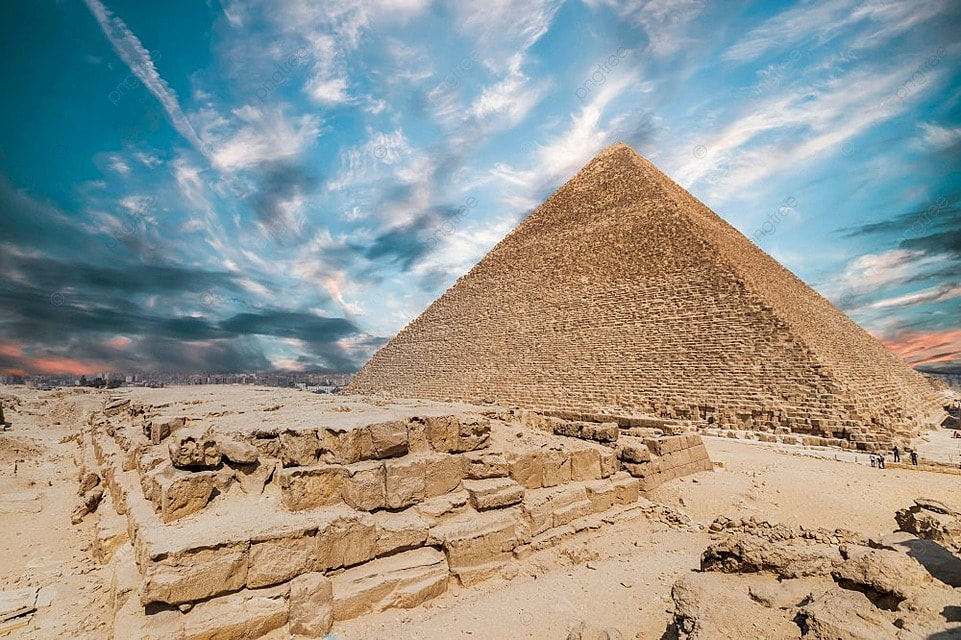 8 Days Cairo, Luxor, Aswan & Abu Simbel Egypt Tour Package
Unveil the captivating wonders of Egypt on our 8-day Cairo, Luxor, Aswan & Abu Simbel Tour Package. From the bustling streets of Cairo to the serene landscapes of Luxor and Aswan, this extraordinary itinerary will immerse you in the timeless splendors of ancient Egypt. Book Now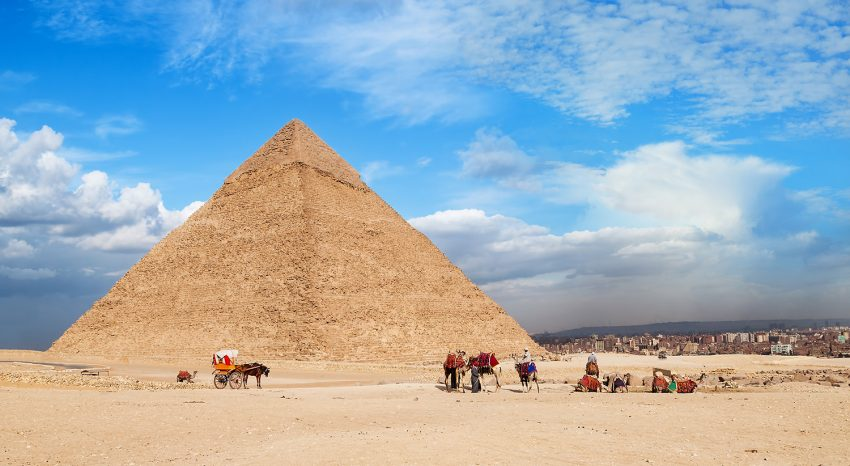 Discover Pharaohs'Egypt Tour Package
Embark on an extraordinary journey through the land of the Pharaohs with our Discover Pharaohs' Egypt Tour Package. Immerse yourself in the captivating history, magnificent monuments, and awe-inspiring landscapes that have fascinated travelers for centuries. Book Now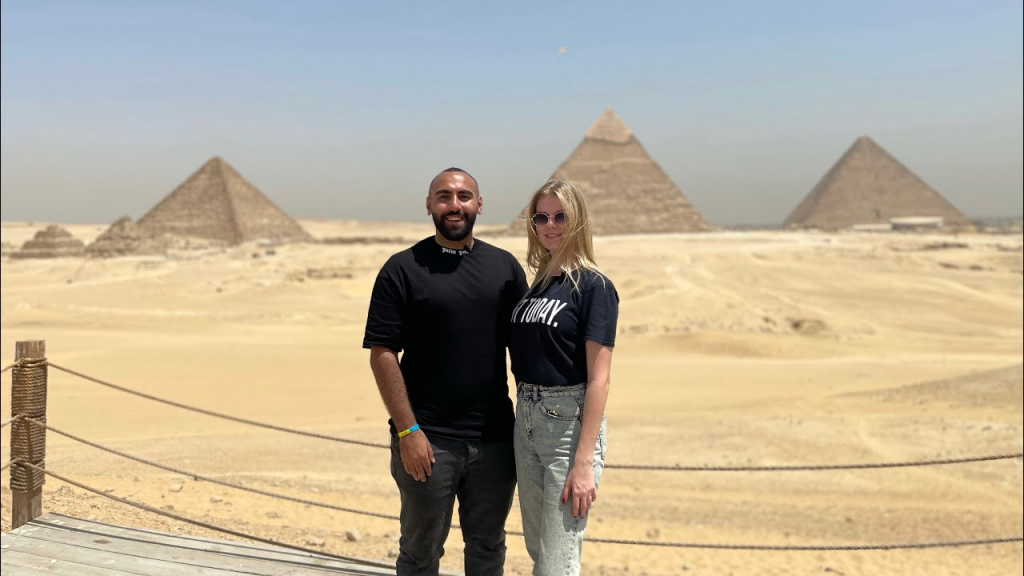 9 Days Cairo, Alexandria & Nile Cruise Egypt Tour Package by Flight
Uncover the wonders of Egypt's ancient treasures with our 9-day Cairo, Alexandria & Nile Cruise Tour Package by Flight. Immerse yourself in the captivating history of Cairo, indulge in the coastal beauty of Alexandria, and embark on a magical Nile River cruise. Book Now
10 Days Cairo, Nile Cruise & Alexandria Egypt Tour Package
Experience the best of Egypt's rich history and cultural heritage with our 10-day Cairo, Nile Cruise & Alexandria Tour Package. From the bustling streets of Cairo to the serene landscapes of the Nile River and the coastal charm of Alexandria, this comprehensive itinerary offers a captivating journey through Egypt's timeless splendors. Book Now
Pharaohs Adventure 10 Days Egypt Tour Package
Discover the wonders of ancient Egypt as you explore magnificent temples, awe-inspiring pyramids, and rich cultural treasures. This meticulously designed itinerary promises an unforgettable journey through time, offering a deep immersion into Egypt's fascinating history, vibrant culture, and breathtaking landscapes. Book Now
12 Days Cairo, Alexandria & Nile Cruise Egypt Tour Package
Embark on an extraordinary Egyptian odyssey with our 12-day Cairo, Alexandria & Nile Cruise Tour Package. Immerse yourself in the timeless beauty and ancient wonders of Egypt as you explore the bustling streets of Cairo, discover the coastal charm of Alexandria, and cruise along the majestic Nile River. Book Now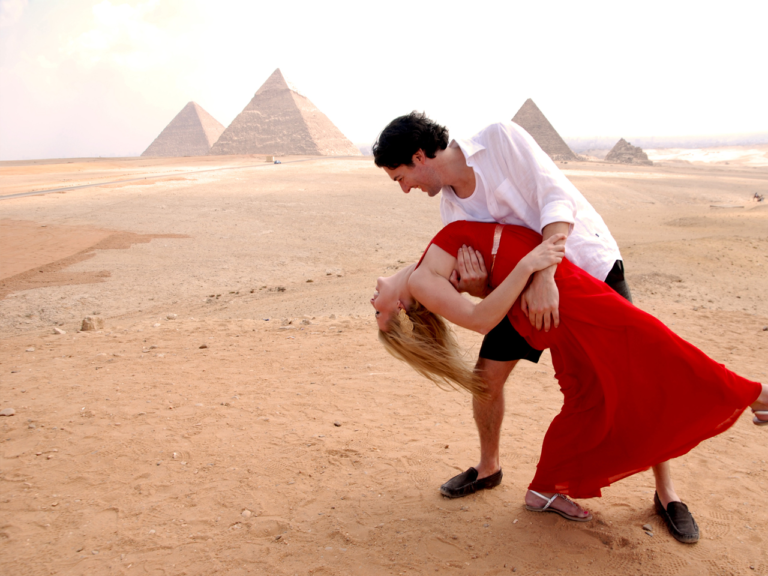 12 Days Classic Egypt Tour Package
From the majestic pyramids of Giza to the serene temples of Luxor and the bustling streets of Cairo, this meticulously crafted itinerary offers a comprehensive journey through the heart of Egypt's classic treasures. Book Now
14 Days Cairo, Alexandria & Nile Cruise Egypt Tour Package
Embark on a remarkable 14-day Egypt odyssey with our Cairo, Alexandria & Nile Cruise Tour Package. Immerse yourself in the captivating history, breathtaking landscapes, and vibrant culture of Egypt as you explore the iconic cities of Cairo and Alexandria, and embark on a luxurious Nile River cruise. Book Now